Copyright (c) copr 2001 all rights reserved TJH Internet SP and Earth Operations Central, with the exception of publicly-mounted images whose copyrights are retained by their originators. Transmission or rebroadcast to any non-Internet media, including radio or television, are expressly prohibited except by arrangement. Each unauthorized retransmission to non-Internet media will be billed at a minimum of $250,000 per instance, payable to TJH Internet SP (InterNIC TJH4).
All comments are strictly my unsupported opinion unless based upon promotional blurb extracted from the websites linked herein. This is by no means an exhaustive nor definitive list, and no particular recommendation nor assurance of solvency or utility is to be inferred from a listing herein.
---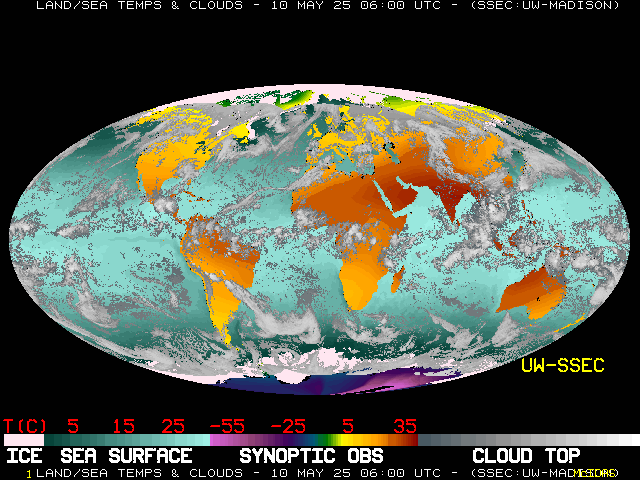 Weather
Atmospheric and Oceanic temperatures and pressures profoundly affect the life of this world. You may research present, past, or predicted conditions through a variety of resources, some of which are listed below.
(US) National Drought Mitigation Center, an excellent resource on drought information.
US National Weather Service weather information, a service of the US National Oceanographic and Atmospheric Administration.
Weather Office -- Environment Canada's Green Lane, from Meteorological Service of Canada. This site has a very nice assortment of satellite images.
EarthWatch. There's Lots of Weather here!
Get the latest (huge) GOES Image of the Americas, from the Canadian Weather Office.
Environmental Protection for: Earth, your Homeworld.
Your air stinks? Understand your Homeworld - Consortium for International Earth-Science Network.
Air Quality Information from the US Environmental Protection Agency.
---
Go to the Business MetaIndex Page.

Visit the Computing MetaIndex Page.

Visit the Sciences MetaIndex Page.

Go back to the main EarthOps Homepage.